Again we've gathered up a great bunch of poets and singers who have been with us through the past 30 years and some new ones for this annual gathering. We think they are the finest group of reciters and singers available! We'll give them five venues to perform in for two days and three nights, open our doors to the greatest audience in existence, and turn everyone loose to enjoy each other as they experience our event. More than 40 cowboy poets & musicians will bring their cowboy poetry and music to the stage and venues to share their heritage, and the culture of the American Cowboy.
Read more
A multiple award winning singer/songwriter, Jean Prescott hangs her hat just a little bit south of Abilene, Texas, with her husband, singer/songwriter Gary Prescott. Jean's music has been referred to as "the spiritual essence of the west" and she shares her love of western life through her songs about the real west of yesterday and today. The heart of her music, however, remains with the women of the west and their stories. Jean agrees with Red Steagall who says, "Women were the cement that held the west together, and nothing has changed". This is evident in the songs she writes and sings about those western women of yesterday and today.
Jean's rich alto voice graces an interactive music exhibit at the National Cowgirl Museum and Hall of Fame in Fort Worth, Texas, and she has been honored by the Texas State Legislature for her contribution to the preservation of Texas music and history. Jean is a recipient of the American Cowboy Culture Award for her preservation of the western way of life through song.
Her most popular CD Sweethearts in Carhartts, brings alive the stories of ranch wives. "They are the heroines behind the scenes whose stories need to be told and I have the utmost respect for them", says Jean.
Read more
Doris has been an emcee and featured performer at every cowboy festival in Canada as well as several in the United States, including Texas, California, Colorado, Nevada, Utah, Montana and Oregon. In 2004, she was named Best Female Cowboy Poet in North America by the Academy of Western Artists, the first time any Canadian, male or female, has won the cowboy poetry category. In 2007, 2008 and 2009 she was named one of the Top 5 Cowgirl Poets in North America by the Western Music Association, with other Top 5 nominations for Best Collaboration and Best Cowboy Poetry CD. At the November 2009 WMA Awards Show, Doris won top honors for Best Female Cowboy Poet and Best Cowboy Poetry CD. As with her AWA Will Rogers Awards, she's the first Canadian to bring home top honors in the cowboy poetry categories.
Read more
Kevin is an award-winning singer/songwriter from southwest Oklahoma. He comes from a family of horsemen and has been a champion rodeo cowboy for many years competing in bareback, saddle bronc, calf roping and team roping. He has been a working cowboy for 20+ years all over Oklahoma and Texas.
Drawing from his experiences and people he has known, he started writing songs. Little did he know how this would impact his life. With his first album, he won the Will Rogers award from the Academy of Western Artists. He has shared the stage with many well-known acts such as R.W. Hampton, Red Steagall, Michael Martin Murphy, and even Merle Haggard. It has been said that he can paint a picture with his songs, and make you feel like you are there. He is a true lover of the American West.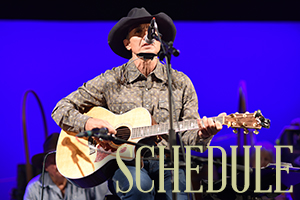 NIGHT SHOWS:
Thursday-Saturday at 7pm
 DAYTIME SESSIONS:
Friday 12-5pm • Saturday 9am-5pm
Saturday 8-9am Coffee With The Cowboys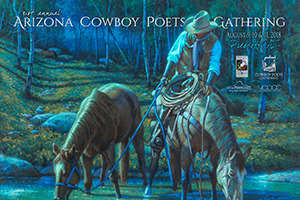 This year's poster artist is Steve Atkinson and the title of the art is "Nightcap"